When planning your journey from Milan to the enchanting Lake Como, you'll find yourself faced with various transportation options. Navigating through the bustling Milanese streets to reach the tranquil shores of Lake Como can be an adventure in itself. To ensure a seamless and comfortable transfer, Elite Royal Cars offers VIP transfer services that are second to none.
Milan Airports: Your Gateway to Italian Beauty
Before diving into the transportation options, let's touch upon the two major airports serving Milan:
Milan Malpensa Airport (MXP): Located about 40 kilometers from Milan's city center, Malpensa is one of the largest and busiest airports in Italy. It's an international gateway for travelers heading to Milan and the beautiful Lake Como region.
Milan Linate Airport (LIN): Positioned closer to the city center, Linate primarily handles domestic and European flights. If you're landing at Linate, you'll also have convenient access to Lake Como.
Your Options for Milan to Lake Como Transfer
Public Transportation: Milan boasts an extensive public transportation system, including buses and trains, connecting the city to Lake Como. While cost-effective, these options can be less convenient due to crowded schedules and limited space for luggage.
Taxi: Hailing a taxi at Milan's airports is an option, but it may come with unforeseen challenges. Finding an available taxi can be time-consuming, and the language barrier might make communication difficult.
Train: Milan has efficient train connections to Como. While trains are a reliable mode of transportation, they may lack the comfort and privacy you desire for a journey to a luxurious destination like Lake Como.
Elite Royal Cars VIP Transfer: If you seek the epitome of convenience and comfort, our VIP transfer service is the answer. With Elite Royal Cars, you'll have a personal chauffeur waiting to whisk you away from the airport to the tranquil shores of Lake Como. Our luxurious vehicles offer ample space for your luggage, ensuring a hassle-free transfer.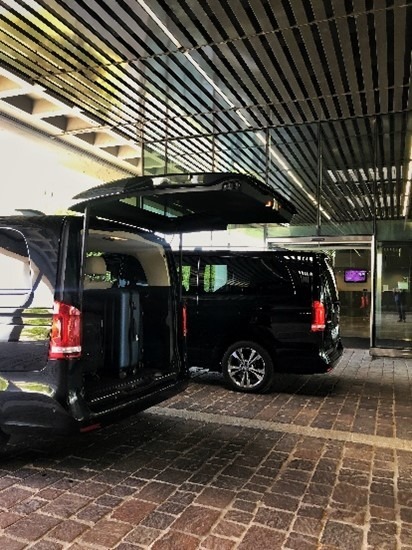 Booking Your VIP Transfer
Booking your VIP transfer from Milan to Lake Como with Elite Royal Cars is a breeze:
Website: Visit our user-friendly website and fill out the booking form with your details, including your flight information and destination. We'll promptly confirm your reservation.
Email: Send us an email with your transfer request, and our dedicated team will assist you in tailoring your journey to meet your preferences.
WhatsApp and Phone: Contact us directly through WhatsApp or by phone to discuss your requirements and finalize your booking. Our team is available to answer any questions you may have.
Social Media: Reach out to us through social media platforms like Instagram and Facebook for inquiries or to start the booking process.
As you embark on your journey from Milan to Lake Como, make the wise choice of booking a VIP transfer service with Elite Royal Cars. Let us elevate your travel experience with comfort, convenience, and the personalized touch you deserve.
Book your Milan to Lake Como VIP transfer today and embark on a journey that seamlessly combines the vibrant culture of Milan with the tranquil beauty of Lake Como.